Arch. Jacopo Roversi e Roberta Pietrobelli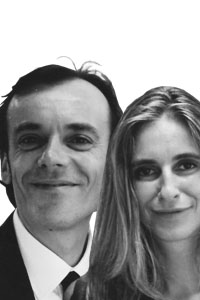 Jacopo Pavesi, architect.
Graduated in Architeture from the Milan Polytechnic in 1984.
Start his own practice in 1985. Along with Giorgio Giani he founds "Giani and Pavesi", a design studio that handles civil and industrial projects, interior design for houses and offices, architectural restorations, renovations, visual communication, graphics and industrial design.
Professor at Milano Polytechnic School of Design.
Publisher and editor of several books on graphics and visual communication.
Roberta Pietrobelli, artist.
Born in cortina d'Ampezzo. Graduated in painting at the Brera Art Academy in Milan.
Has participated in public and private art exhibitions and installations.
Has designed and developed numerous products and patterns for national and international companies.
Since 1995 has worked with Jacopo Pavesi on design, graphics and photography projects. Together they have edited several exhibitions on art and photography, and have written books, catalogues and articles on various art and graphics magazines.