Arch. Katja Bremkamp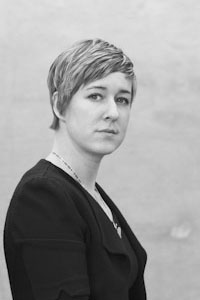 Katja Bremkamp, a trained silver- and goldsmith has devoted her work to designing and redefining utensils for the table, including knives, forks and spoons. The focus of the designer is directed at the relationship between the individual cutlery items, what lies behind their interdependency, social rituals and how they have evolved. Bremkamp devotes some of her creations to the sensuality of the first bite. These cutlery pieces have nothing in common with familiar utensils but are a newly discovered aid to seductive presentation and to the indulgent moment of that impressive first taste.
Since graduating from the Royal College of Art in 2006 Katja's work has been published and exhibited worldwide at places such as New York, Shanghai, Milan, Munich, Frankfurt as well as London. She designs her own lines and works as a design consultant for some of the largest silverware companies in the world. In collaboration with chefs and fellow designers, Katja is also running her own 'Underground Dinner Groups', where she is creating and presenting interactive dining concepts to museums, restaurants and to the public.
Since 2012 she is also the Co Owner of Galerie Marie Louise.
Education
2006 - 2004 Master of Arts, Metalwork, Royal College of Art, London
2004 - 2001 Bachelor of Arts, Designed Metalwork and Jewelery, Buckinghamshire Chilterns University College, High Wycombe, (First Class)
2001 - 1997 Apprenticeship as a goldsmith, Goldsmithery Maria Haverkamp, Emsdetten, Germany
Work experience
2012 - 2013 Co- Owner of Galerie Marie Louise
2011 - 2012 Member of 'Art Cuisine', Münster
2009 - 2010 Co-Owner of 'Blushwhisper', Underground Dining Group in collaboration with Chef Roberto Cortez
2009 - 2010 Founder of 'onepartcheffourpartsdesign'
2010 - 2010 Design Consultant 'Königliche Porzellan Manufaktur Berlin'
2007 - 2009 Design Consultant 'Villeroy&Boch'
2006 - 2007 Design Consultant 'Mepra'
2006 - 2009 Part time lecturer, Buckinghamshire Chilterns University College
2005 - 2006 Design Consultant habitat