Premios
Red Dot Award 2018
Red Dot Design Award to STILE cookware collection
The cookware collection designed by Pininfarina and realized by Mepra won one of the most prestigious prizes of the world.
Turin, 10th April 2018 – STILE, the cookware collection designed by Pininfarina, one of the italian designer icons, and realized by Mepra, which is a cutting-edge italian company for the production of cutlery and stainless steel items won the Red Dot design Award for the category Product Design 2018.
The Red Dot Design Award jury, one of the most prestigious international design prizes, examined products from 59 countries and STILE with its essential and contemporary look conquered the majority of the jury.
STILE brings elegance in the kitchen without forgoing functionality, making the cooking experience even more satisfying. The pureness of the lines and the essential geometries shape a collection in which function and style reach the perfect balance.
The lid, with its rounded lines, recalls the pot shape guaranteeing a perfect integration of the elements. It suggests the idea of a unique, extremely compact body. The contrast between the shiny finishing of the handles and the satin-finishing of the exterior gives a recognisible look to the collection.
"The Red Dot Design Award make us proud and joyful - explained Luigi Prandelli CEO of Mepra – because it is not only the result of our stylistic research, but also of the attention to safety, ergonimics and functionality. Thanks to the precious contribution of Pininfarina we can define STILE an expression of Italian excellence and the proof of an innovative approach to design, focused on people's wishes and needs.
"Shape and functionality bind themselves harmoniously in STILE collection" said Paolo Pininfarina Chairman of the Group. " The Red Dot Design Award certifies the design excellence of this project that gave us the possibility to show our competences in the industrial design and our deep knowledge in the Home world.
STILE will be presented at the Red Dot Design Musem, the greatest museum of contemporary design in Essen, Germany. Next 9th July 2018 during the ceremony at the Aalto Theatre the prize will be officially handed.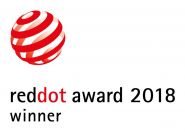 The Design Plus Award is a recognition in the field of design and is awarded annually in the fairs Ambiente and ISH, which take place in Frankfurt.
The award was established in 1983 and is organized by the Frankfurt Trade Fairs (Messe Frankfurt), the Council for the German Design (Rat für Formgebung), and by the German Council for Industry and the Chamber of Commerce (Deutscher Industrie und Handelskammertag).
The Design Plus is awarded to products that combine attractive design, innovative materials, and sustainability of production.